WINTER IS COMING !!
I HOPE to be back in production after the Nrw Year ... STAY TUNED!
TIME TO GET SLAMMIN'
SLAMMER TIP-UPS WERE DESIGNED TO CATCH STEELHEAD ...
... BUT THEY WORK GREAT FOR PIKE, BASS, WALLEYE, PERCH, PANFISH AND MORE !!!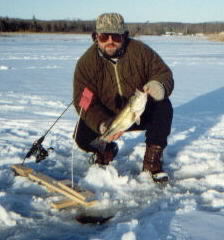 With a PROPERLY RIGGED SLAMMER TIP-UP, the fish is usually hooked in the upper jaw or corner of the mouth causing less internal damage for easy release.
WARNING: PAY ATTENTION TO YOUR SLAMMER AS SMALL FISH MAY GET FLUNG!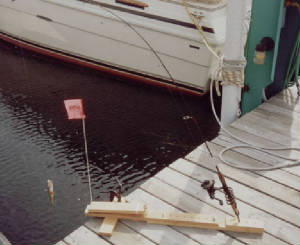 SAVE MONEY AND MAKE YOUR OWN SLAMMER TIP-UP WITH OUR KIT
Our CUSTOMERS ONLY section has dimensions for Mini-Slammers, Slammer-mods, and MORE!!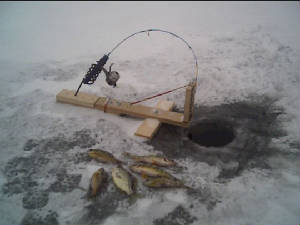 We have revised our Slammer Tip-Up Kits and they now include upgraded instructions, blueprints, illustrations, and set-up directions along with all of the necessary hardware, Slamco rod-holder, and signal flags to build your own Slammer Tip-Up.
IMPROVED RING RELEASE AND ROD HOLDER FOR 2011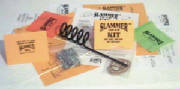 Slammer Tip-Ups work even better with our Folding Solar Hole Cover designed exclusively for use with Slammer Tip-Ups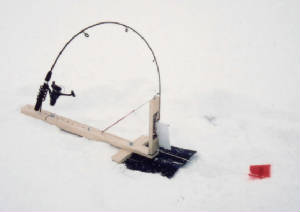 Your Slammer Tip-Up can jig your bait with the slightest breeze by utilizing our Wig-Jigger wind-operated jigging add-on for your Slammer Tip-Up