THANK YOU FOR YOUR BUSINESS AND SUPPORT !!!
*** HAVE A SAFE AND HAPPY ICE FISHING SEASON ***
Updated 1/28/15
UNFORTUNATELY, WE HAVE EXHAUSTED OUR SUPPLIES PREMATURELY FOR THIS SEASON
YOU ARE WELCOME TO ORDER AT THE CURRENT (2012!!) RATES BUT WE CAN NOT
GUARANTEE A SHIP DATE AT THIS TIME (SORRY, BUT IT COULD BE MONTHS)
INTERNATIONAL CUSTOMERS (this includes CANADIANS and outside of the continental United States) - Due to changing regulations and shipping rates, we are asking you to send us an email with your order request to slammertipup@aol.com so we can give you a price quote with the correct shipping rates. We can then send you a bill via PayPal. We are sorry for the inconvenience

Slammer Tip-Up - $38.95 OUT OF STOCK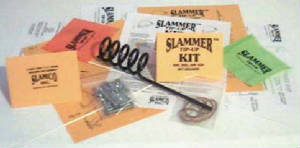 Slammer Tip-Up Kit - $15.95 OUT OF STOCK
Slammer Tip-Up Double Kit (makes 2 Slammers) - $28.95 OUT OF STOCK
Slammer Tip-Up Triple Kit (makes 3 Slammers) - $39.95 OUT OF STOCK
Slammer Tip-Up Quad Kit (makes 4 Slammers) - $50.95 OUT OF STOCK
Slammer Tip-Up Pen-Pac (makes 5 Slammers) - $61.95 OUT OF STOCK
Slammer Tip-Up Ten-Pac (makes 10 Slammers) - $120 OUT OF STOCK

Slamco Hole Cover - $5.95
We primarily ship to the continental United States via USPS and UPS.
If you are from Canada or elsewhere and are interested in Slamco products - please send us an email at slammertipup@aol.com and we'll get back to you regarding shipping options.
If you'd prefer to order through the mail: PLEASE
email
for a price quote so we can calculate shipping & handling costs and sales tax where applicable - send your inquiry to
slammertipup@aol.com
. We do not take orders over the phone. We only accept PayPal and USPS Money Orders.
Kit pacs include only one set of
directions, instructions,
illustrations, and blue-prints.
Wood is NOT included
8 foot long 1 x 3 required
per Slammer Tip-Up™ Kit