President - Matthew J. Schalk
Office / Treasurer - Frances E. Schalk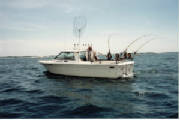 We are a small family owned and operated PART-TIME business. We work at Slamco when we can! Matt USED TO FISH a LOT, but rarely gets a chance to anymore. Matt started fly-tying commercially in the late 1980's and operated as Nymrod Nymph Custom Flies. Glopedo custom steelhead jigs came soon after. With the advent of Slammer Tip-Ups in the early 1990's, the Slammer Tip-Up Company was formed and within a few years was incorporated as Slamco Inc.
We began commercially producing our Slammin' Fly Great Lakes trolling flies (which we'd been making and using for years) in the late 1990's and operated the Salmon Slammer, a SS235 Slickcraft hardtop, out of the port of Muskegon.
Founded in Muskegon, most work is now done where Matt & Fran reside in Ferndale, just outside of Detroit, Michigan.