President - Matthew J. Schalk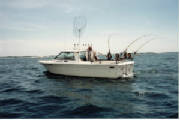 SLAMCO is a small privately owned and operated PART-TIME business. I work at Slamco when I can while working a full time job. I USED TO FISH a LOT, and hope to be doing more. I started fly-tying commercially in the late 1980's and operated as Nymrod Nymph Custom Flies. Glopedo custom steelhead jigs came soon after. With the advent of Slammer Tip-Ups in the early 1990's, the Slammer Tip-Up Company was formed and within a few years was incorporated as Slamco Inc.
I began commercially producing our Slammin' Fly Great Lakes trolling flies (which we'd been making and using for years) in the late 1990's and operated the Salmon Slammer, a SS235 Slickcraft hardtop, out of the port of Muskegon.
Founded in and returning to Muskegon Michigan. - Matt Schalk, President Slamo