Slammin' Flies
Great Lakes Trolling Flies made of the finest fly tying materials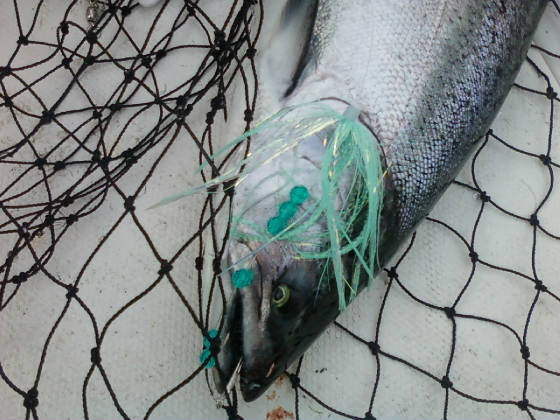 Slammin' Flies are a 4" Flashabou reverse-cinched tube fly hand-tied with Kevlar thread for stregth and endurance. We rig our flies with 50# clear Ande monofilament Palomar knot tied to a #2/0 Eagle Claw L375 Lazer Sharp treble hook properly spaced with six 8mm faceted beads. The silicone head can be removed and the fly reversed to run "streamer style".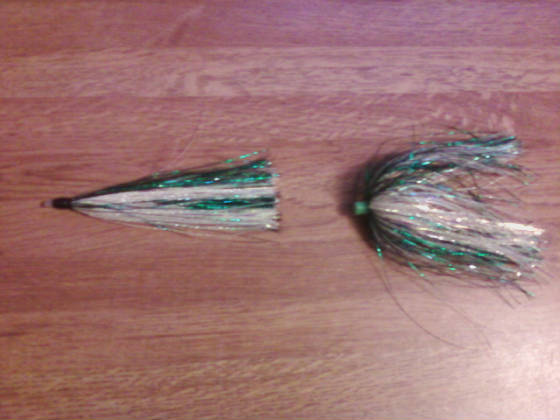 Slammin' Flies are available in well OVER ONE HUNDRED proven fish catching and tournament winning patterns. Our most popular varieties are avaiable in select West Michigan bait shops. We are always coming up with new patterns and have offered custom flies to the discerning angler since the late 1980's. Slammin' Flies have been the "secret weapon" in many a tournament anglers' arsenal for many years.
Want your own custom fly? Some of our best flies came from ideas such as "can you make one like this but with that instead of that and these color beads?? " .... "what about that fly but with some of this in it too?" ... "can you make a fly that looks like this spoon?" ... etc... etc ...
Join the ranks of successful Slammin' Fly users like the crews of Salmon Slammer, Do-De-K, Lord of the Lake, Norm's Nailer, Hat Trick, Equalizer, Thor's Hammer, Smoked Chub, On-A-Roll, Margie J, Fishmaster and have a fly named after your boat!! or maybe you are "special" and will get one named after you or your business .... i.e. Raging Richie, Steve's Shiner, Shoreline, Evening Funk, Captain Chuck & Captain Craig, T.G.I.F., Fran Fly, D's Special Gold, Wavy Davy, and MORE!!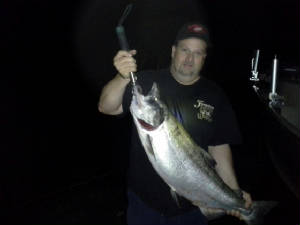 Field-testing SUCCESS!!! Dan "Wad" Wadsworth with the first fish taken on the new Ajax Mirage fly.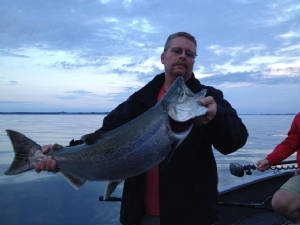 Greg "Breeze" Bramer lands the first fish on the new Bait Ball Mirage!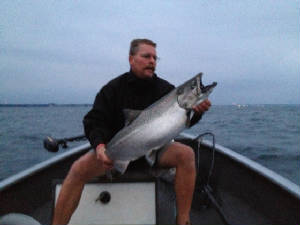 Next trip out a week later and Breeze takes another 20+ pounder on the Bait Ball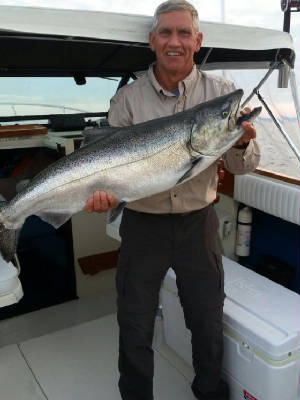 This dandy king fell prey to a Shoreline Slammin' Fly aboard the Big Picture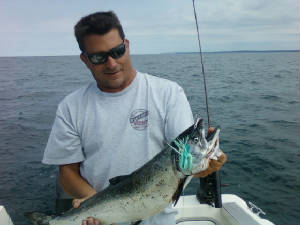 Captain Dom of Dominator Charters admiring a nice "eater" king taken on a Blue Bubbly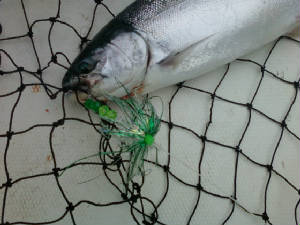 Slammin' Flies don't only catch chinook (king) salmon. This steelhead gobbled up a Death Pickle
Want more info on Slammin' Flies and where and how to purchase them?? Send Matt an email at
slammertipup@aol.com